Description
Green Community in Dubai:
In the heart of Dubai, amid the bustling metropolis, lies a haven of serenity and natural beauty known as Green Community. This picturesque residential oasis offers a unique blend of peaceful living and urban sophistication. In this extensive guide, we'll take you on a journey through Green Community, exploring its verdant landscapes, iconic landmarks, exceptional shopping experiences, and how Four Season pool Garden Landscaping Company can elevate your lifestyle with our swimming pool construction and garden landscaping services.
Green Community Market Shopping Centre:
This charming complex is nestled within Green Community, offering a selection of retail outlets, cafes, restaurants, and convenience stores. It's a gathering place for residents and visitors alike, providing essential services and a cozy atmosphere.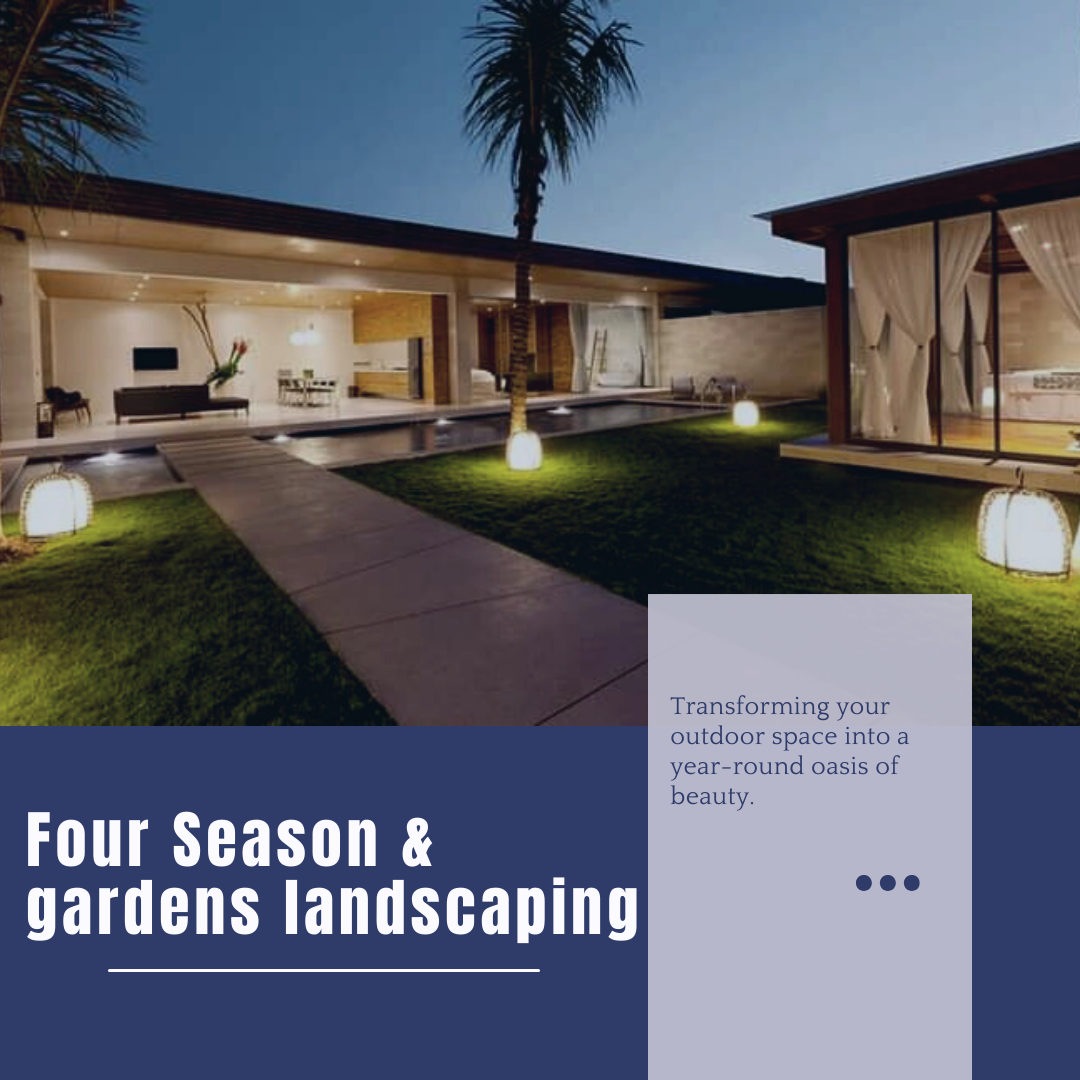 Famous Places to Explore:
The Courtyard: A central garden area with pristine lawns, water features, and a serene atmosphere, ideal for leisurely walks and picnics.
The Lake: An artificial lake with walking trails and beautiful views, providing a tranquil setting for residents to relax and enjoy the outdoors.
Green Community Park: A well-maintained park featuring playgrounds, sports facilities, and shaded areas, perfect for families and outdoor enthusiasts.
Swimming Pool Construction & Garden Landscaping Services
At Four Season pool Garden Landscaping Company, we understand the unique desires of Green Community residents who seek a harmonious balance between nature and modern living. That's why we offer top-tier swimming pool construction and garden landscaping services to transform your property into an oasis of elegance and tranquility.
Green Community Swimming Pool Construction:
Quality Craftsmanship: Our expert team ensures precise construction using premium materials, guaranteeing a durable and captivating pool.
Water Features: We can incorporate waterfalls, fountains, or infinity edges to enhance the aesthetics and serenity of your pool.
Ambient Lighting: We offer a variety of lighting options to create the perfect atmosphere for daytime relaxation and evening entertainment.
Maintenance Services: Beyond construction, our services include post-installation maintenance to ensure your pool remains in impeccable condition.
Green Community Garden Landscaping:
Plant Selection: We meticulously select plants and features that thrive in Dubai's climate, ensuring your garden remains vibrant year-round.
Hardscaping: Our team can introduce pathways, patios, and other hardscape elements to augment your garden's functionality and aesthetics.
Ongoing Maintenance: Our garden maintenance services ensure your outdoor space retains its beauty and serenity over time.
With our swimming pool construction and garden landscaping services, you can transform your Green Community property into a haven of beauty and relaxation, perfectly aligned with the tranquil and luxurious ambiance of this exceptional community.
Types of Swimming Pools:
Now, let's dive into the world of swimming pools, exploring various types and their unique features:
Lap Pool: These pools are designed for swimming laps and are typically long and narrow. They provide a dedicated space for exercise and fitness.
Natural Pool: Mimicking natural bodies of water, these pools incorporate organic shapes, rocks, and aquatic plants to create a pond-like appearance.
Ideal For: Eco-conscious homeowners who appreciate a natural aesthetic and environmentally friendly options.
Ideal For: Small gardens, courtyards, or homes with limited outdoor space.
Geometric Pool: Details: These pools feature clean lines and well-defined shapes, often in squares, rectangles, or other geometric forms. They exude a modern and elegant aesthetic. Ideal For: Properties with contemporary architecture and those seeking a timeless and symmetrical design.
Freeform Pool Embracing a more organic and natural appearance, freeform pools have irregular shapes with curves and meandering contours. They blend seamlessly with surrounding landscapes. Gardens with diverse flora and properties aiming for a relaxed and natural look.
Indoor Pool: Enclosed within a structure, indoor pools provide year-round swimming opportunities and protection from the elements. They require proper ventilation and climate control. Homes in regions with extreme weather conditions or those seeking privacy and convenience.
Spa Pool (Spool): A combination of a spa and a pool, spools are compact and often feature hydrotherapy jets, making them ideal for relaxation and soaking. Small spaces, urban homes, or individuals looking for a therapeutic water experience.
Olympic-Sized Pool: These pools meet the dimensions and specifications required for Olympic competitions, with strict length and depth requirements. Professional athletes, swim coaches, or sports facilities aiming to host competitive swimming events.
Garden Designs Villa Renovation services:
Tropical Garden: It creates a resort-like atmosphere, perfect for relaxation and escape. Properties seeking a tropical paradise feel, often complementing modern or Mediterranean-style villas.
Mediterranean Garden: Inspired by the Mediterranean region, this garden features stonework, terracotta pots, fragrant herbs, and flowering shrubs. It exudes a rustic and welcoming charm. Villas with Mediterranean architecture or those desiring a warm and inviting ambiance.
Desert Garden: Designed to thrive in arid climates, desert gardens feature cacti, succulents, and gravel pathways. They require minimal water and maintenance. Sustainable landscaping in Dubai's desert climate, promoting water conservation.
Zen Garden: A minimalist and contemplative garden inspired by Japanese design principles. It includes gravel, rocks, bonsai trees, and simple, balanced arrangements. Creating a tranquil and harmonious outdoor space, promoting relaxation and meditation.
English Garden: Characterized by its formal layout, manicured lawns, and an abundance of flowers, an English garden offers an elegant and classic look. Villas with traditional or colonial architecture, reflecting timeless beauty and charm.
Contemporary Garden: Clean lines, geometric shapes, and a focus on modern materials define contemporary gardens. They often feature minimalistic planting with bold architectural elements. Homes with contemporary or minimalist architecture, creating a sleek and sophisticated outdoor space.
Cottage Garden: A romantic and picturesque garden style with a profusion of flowers, climbing vines, and informal layouts. It has a charming, slightly wild appearance. Villas seeking a cozy and nostalgic garden atmosphere, reminiscent of traditional English cottages.
Xeriscape Garden: Designed for water conservation, xeriscape gardens incorporate native plants, mulch, and efficient irrigation systems to minimize water usage.
Formal Garden: Symmetrical and well-structured, formal gardens feature precisely trimmed hedges, topiaries, and precise planting patterns. They offer a sense of order and elegance. Homes with neoclassical or formal architecture, creating a sense of refinement and grandeur.
Asian-Inspired Garden: Drawing from various Asian cultures, this garden style may include elements like bamboo, stone lanterns, koi ponds, and tranquil pathways. Properties with Asian-themed interiors or those seeking a peaceful and balanced garden design.
Wildflower Meadow: A naturalistic garden with an abundance of native wildflowers, providing habitat for pollinators and a colorful, ever-changing landscape. Eco-conscious homeowners interested in supporting local biodiversity and embracing a more naturalistic garden approach.
Roof Garden: Roof gardens are situated on building in rooftops, providing greenery and relaxation areas in urban environments. They often feature container plants and seating. High-rise villas or homes with rooftop spaces, maximizing the use of available space.
Edible Garden: Edible gardens focus on growing fruits, vegetables, and herbs. They promote sustainability, self-sufficiency, and the joy of homegrown produce. Health-conscious homeowners interested in growing their own organic food.
Sculpture Garden: These gardens feature art installations and sculptures as focal points, combining the beauty of nature with artistic expression. Homes with an appreciation for art and sculpture, creating a unique and visually stimulating outdoor space.
Rock Garden: Comprising rocks, boulders, and alpine plants, rock gardens mimic mountain landscapes Green Community in Dubai. They are designed to thrive in rocky, well-drained soil. Homes with rocky or challenging terrain, allowing for creative landscaping solutions.
Heritage Garden: A garden that preserves and showcases traditional plant varieties, horticultural techniques, and cultural elements, celebrating local heritage. Properties with historical significance or those interested in preserving cultural traditions.
Water Garden: Water gardens incorporate ponds, waterfalls, aquatic plants, and ornamental fish. They create a serene and aquatic oasis within your landscape. Villas with ample outdoor space or those desiring a soothing and aquatic outdoor experience.
These are just a few of the garden landscaping styles we offer alongside our villa renovation services Green Community in Dubai. Each style can be customized to suit your preferences and the unique character of your villa, creating an outdoor space that perfectly complements your lifestyle and aesthetic vision.
Here is our Projects: