Description
The Palm Jumeirah:
In this blog post, we invite you to discover the allure of The Palm Jumeirah, from its world-class shopping options and famous landmarks to how Four Seasons Pool & Gardens Landscaping can enhance your living experience with our swimming pool construction and garden landscaping services.
Retail Bliss: Shopping
The Palm Jumeirah is home to some of Dubai's most prestigious shopping destinations. The Nakheel Mall, located at the heart of the island, is a retail haven with a vast selection of high-end boutiques, dining experiences, and entertainment options.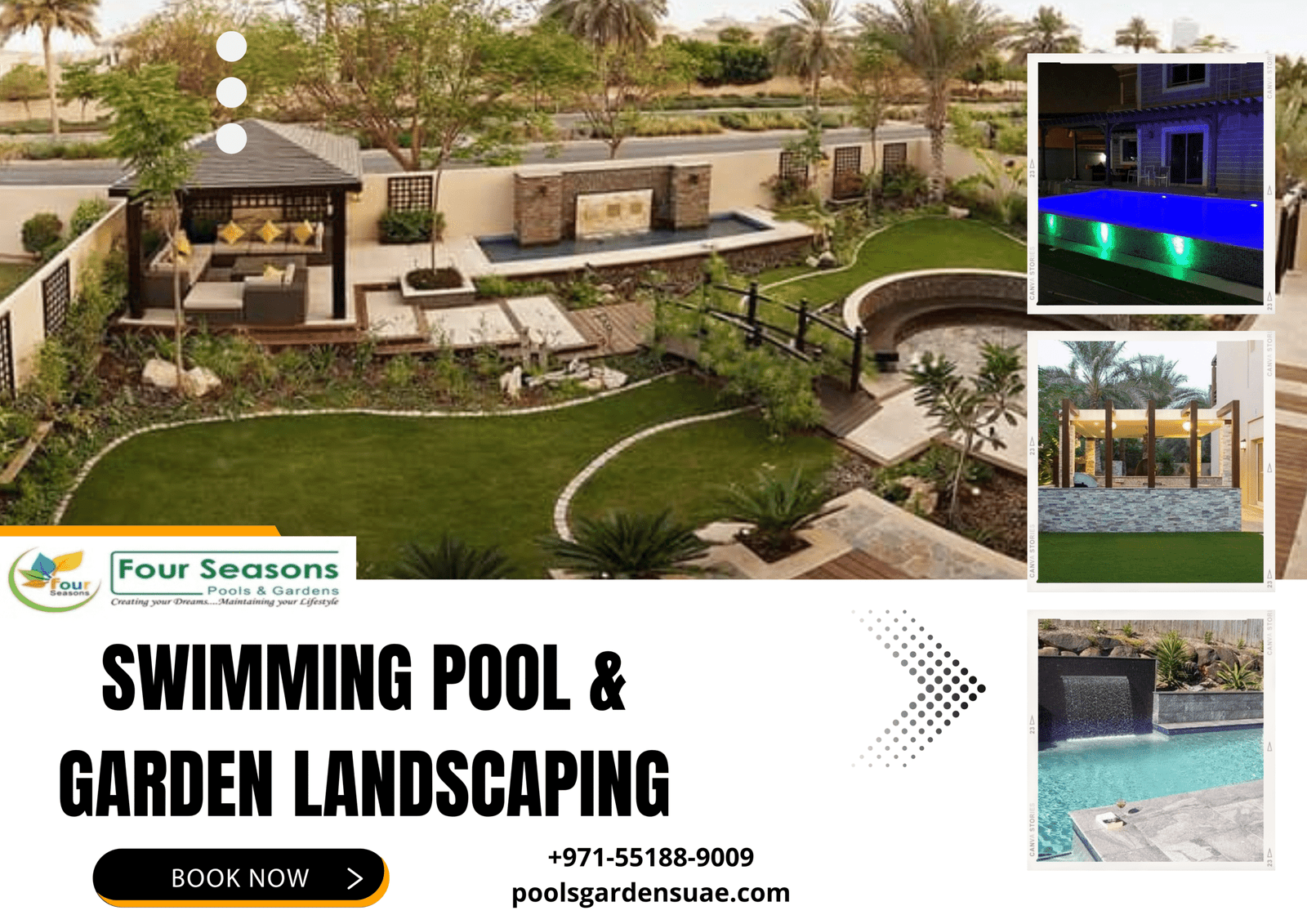 Famous Places to Explore:
1. Atlantis, The Palm: This iconic 5-star resort offers a range of aquatic adventures, including a water park, aquarium, and mesmerizing marine life experiences.
2. The Pointe: A stunning waterfront dining and entertainment complex, perfect for leisurely strolls, dining with a view, and catching spectacular sunsets.
3. Palm Jumeirah Boardwalk: Ideal for evening walks, jogging, or simply enjoying the breathtaking views of the Arabian Gulf and Dubai's skyline.
4. Aquaventure Beach: A private beach offering pristine sands and crystal-clear waters, exclusively for resort guests and visitors.
5. Palm Jumeirah Monorail: A unique way to explore the island, offering picturesque views and a convenient mode of transportation.
Swimming Pool Construction & Garden Landscaping Services
At Four Seasons Pool & Gardens Landscaping, we understand that residents of Jumeirah demand the very best in luxury and comfort.
Imagine relaxing by your private swimming pool, meticulously designed to meet your preferences and lifestyle. The Palm Jumeirah epitomizes the pinnacle of modern living and natural beauty.
In Dubai, our company specializes in providing top-notch swimming pool construction and garden landscaping services.
Here are some details about the services we offer:
Swimming Pool Construction:
Custom Design: We create bespoke swimming pool designs tailored to your preferences, whether you desire a sleek modern pool, a family-friendly oasis, or a luxurious infinity pool.
Quality Craftsmanship: Our expert team ensures precise construction and uses high-quality materials to guarantee a durable and stunning pool.
Water Features: We can incorporate waterfalls, fountains, or infinity edges to enhance the aesthetics of your pool.
Lighting: We offer a range of lighting options to create the perfect ambiance for day and night swimming.
Maintenance: Our services include post-construction maintenance to keep your pool in pristine condition.
Garden Landscaping:
Personalized Designs: Our skilled landscape designers create custom garden plans to match your style, whether it's a lush oasis, a minimalist Zen retreat, or a functional outdoor entertainment space.
Plant Selection: We carefully choose plants and features that thrive in Dubai's climate, ensuring your garden remains vibrant year-round.
Hardscaping: Our team can incorporate pathways, patios, and other hardscape elements to enhance your garden's functionality and aesthetics.
Maintenance Services: Our ongoing garden maintenance services ensure your outdoor space remains a stunning and welcoming retreat.
With our swimming pool construction and garden landscaping services, you can transform your outdoor space into a haven of beauty and relaxation, perfectly suited to your lifestyle and preferences in the vibrant city of Dubai.
Here is our project Gallery: