Professional Outdoor Landscape Lighting Service Company In Dubai UAE
Welcome To Four Seasons - Best Outdoor Landscape Lighting Contractor In Dubai UAE
Landscaping is just the beginning process. The next step is to illuminate your beautiful garden or landscape. If you have spent a lot of money on building a beautiful landscape or garden, obviously, you would want it to be a 24/7 activity.
With our landscape lighting services in Dubai, get a landscape that pleases the eyes and the soul.
The right landscape lighting is super important. Residents of Dubai know very well how beautiful it gets during the nighttime.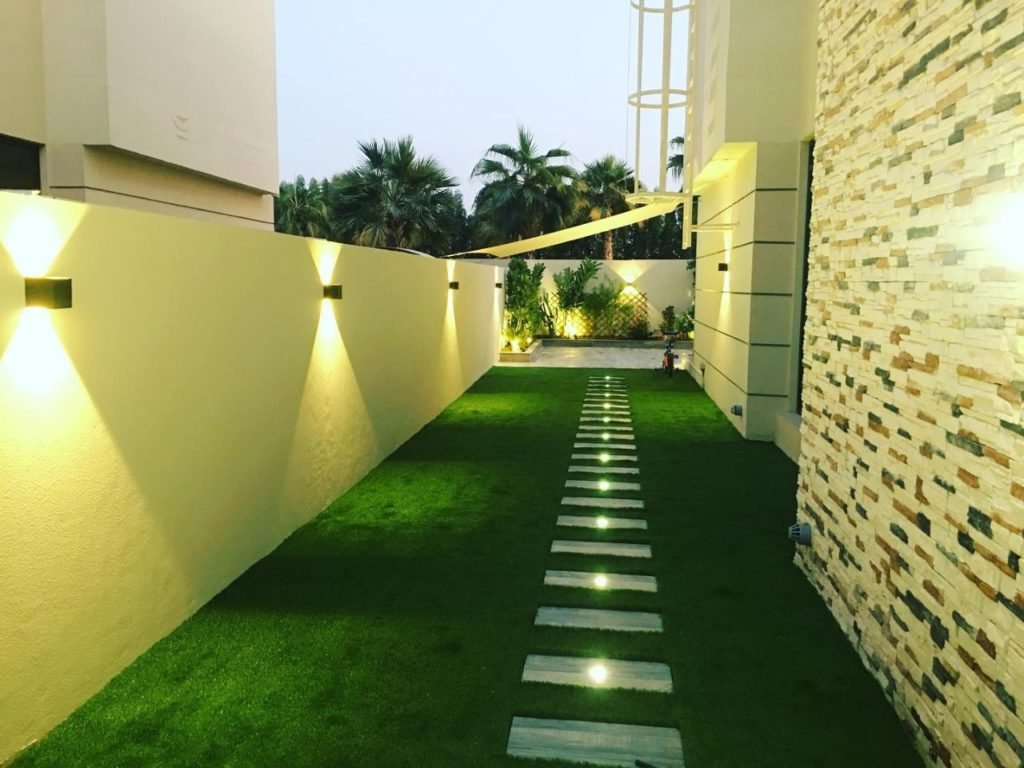 It's time you enhance the aesthetics of the premise with the right light. That's a double bonus since if you are a night owl, you'll definitely want your garden or landscape to exude the calmest possible vibes during the night.
Planning on installing landscape lighting in your backyard or commercial premises? If yes, then Four Seasons Pool and Garden Landscaping has got you covered.
We provide the best services for all your landscaping and swimming pool needs. Our pricing relatively gives us the competitive edge as we only aim to keep the clients satisfied as their victory is ultimately our victory too.
Aesthetics aside, landscape lighting also acts as a guiding tool during the nights. But that's not enough of a reason to illuminate the place.
Lighting highlights the main features of your landscapes, such as stairs and walkways, water fountains, etc. Why hide all the beautiful outdoor features of your place at night?
Just share your landscape lighting vision, and you can leave it to us to make it a reality.
Best Landscape Lighting In Dubai UAE
Purchasing the right hardware for outdoor lighting systems is crucial. However, it's also about art.
Modern lights are low voltage and easy to work with. We offer you the best lighting service available in Dubai.
They also require low maintenance.
Secondary equipment required to install the lights, such as transformers, is also state of the art.
And no one is better at this job than Four Seasons Pools and Gardens.
Types of Landscape Lighting in Dubai
Garden: These types of lights are installed on 20-25 inch posts that throw light onto the surrounding area. These also act as pathway makers, and unlike other lighting schemes, their style and aesthetics are prominent upon completion.
Wash: Wash lights are typically used for brightening flat surfaces such as a well-finished wall of your house, garden walls, fences, and other horizontally flat surfaces.
Bullet: Bullet lights are often equipped with bulbs that throw a narrow beam that widens as it goes. These lights are well known for highlighting special features of your house, garden structures, and tree trunks.
Well: This is a well-hidden lighting scheme. Such lights are often installed below special structures that require highlighting to express their charms.
Downlight: As the name suggests, unlike other lighting options listed above, downlights are often installed on tall surfaces. These are the most popular among our clientele as they create a special moonlight effect.
For example, if there is a small pond surrounding a tree, you would want to install this light on top of the tree to illuminate the surroundings. Moreover, these also act as a guiding source as these lights are known to be quite powerful and stylish.
Reasons to Invest in Landscape Lighting in Dubai
Let us tell you that if you are yet to install lighting in your backyard, you are limiting your premises' full potential and are missing out on an all-year activity. There are several reasons why you should brighten up your yard or any other outdoor space.
Your living room doesn't have to be the only relaxing spot in your home. As mentioned earlier, illuminating your outdoor space can do wonders and make it more appealing and inviting. Extend to the outdoors of your home. With the right lighting scheme, the benefits are uncountable.
When talking about the outdoors, the sky's the limit. Activities that weren't enjoyable indoors can now be possible. Your guests will have a much better time. Your kids can have a well-lit area to spend their nights. And even if you want a good place to drink your tea before going to bed, landscape lighting in Dubai can help you achieve all this.
Secondly, lighting highlights all of the special features of your premises. Not just your yard, but if you have any special features you would want to stand out during the night, lighting is surely the right way to go about it.
Not to mention the safety feature lighting adds. During the nighttime, as mentioned earlier, a well-lit outdoor area can prevent injuries. Illuminating your walkways, paths, and stairs is essential, especially if you have little kids and senior citizens residing in your home.
Also, prevent your ankles from twisting with the right lighting. Reduce the chances of tripping on an elevated surface. With the right lights, your family, friends, and guests would feel much safer and more comfortable.
Another point worth highlighting is security. UAE is a safe country, but just as a bonus point, intruders would be much less likely to trespass on your property due to a well-lit environment.
Four Seasons Pool & Gardens Landscaping
The possibilities are limitless. However, it is for you to decide which lighting scheme would be the best fit for your home. If you require any further assistance regarding outdoor landscape lighting in Dubai, feel free to give us a call.
Four Seasons Pool & Gardens Landscaping will be happy to help you and give you a rough estimate of the job. We are the leading landscape, gardening, and pool construction company for a reason!
Fields marked with an * are required
Get inspired by our recent work