Professional Water Features Service Company In Dubai UAE
Welcome To Four Seasons - Leading Water Features Contractors In Dubai UAE
Your surroundings play an important role. Haven't you ever noticed that the calm and serene surroundings make your moods mellow and light as well? On the contrary, if everything is unkempt and messy, you'd want to run away from the place.
We help you build spaces so amazing, that you'd never want to leave the place. Water features are an amazing way to bring unmatched aesthetics to your surroundings. Indoors and outdoors both. With the rightly built features, you'll have spaces that exude magic, and people will not want to leave them.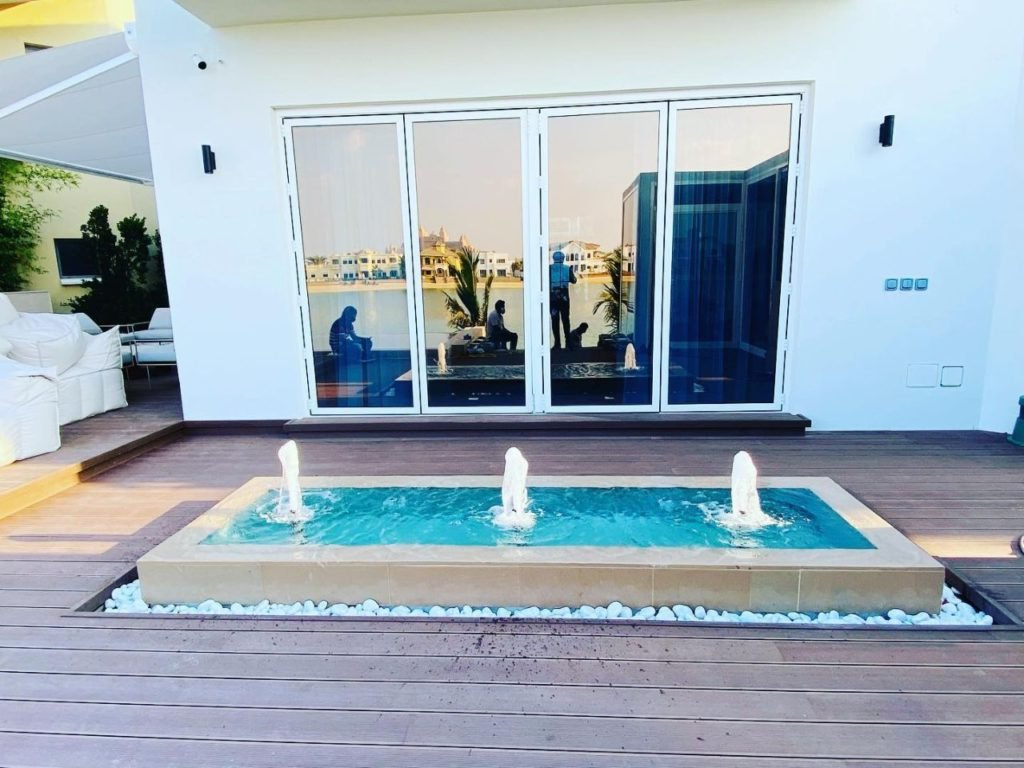 Allow Four Seasons Pool and Gardening services to help you get there. We are ranked amongst the best water feature contractors in Dubai and are proud to have delivered amazing services to our clients.
You can avail our services for indoor and outdoor water features. We excel at both. Any size of the water feature, design, or variety that you want is available with us. In fact, with us, you'll find some of the most unique and innovative designs.
Let's now see what water features are and why should you choose our services to get one?
A little about water features in Dubai
Water features are basically the flowing water bodies
Some places have them naturally. But that doesn't mean that your place needs to be devoid of such beautiful structures. With the right water features services, you can have such beautiful pieces installed at your place.
We are well equipped to beautify your places. Our expertise is honed over time and sufficient enough to deliver any of the beautiful water features of your choice.
All that you need to do is to come to us and tell us your requirements. The rest shall all be handled from there on. Our efforts are directed towards delivering you the best work at the most reasonable prices possible.
Water features are of various sorts. Some of them are straightforward, while some of them require other expertise as well, such as garden landscaping. That's because the gardens need to be carved out the right way so that your desired water feature can be carved out.
Well, that's not something you must worry about. All that you need is to book an appointment with us. With that said, here are a few reasons why you must choose us:
Why book our water feature services in Dubai?
Going over the internet to choose the right water feature services can be tricky. So many results popup that it can get pretty confusing to select one.
But water feature installation is something that you can't trust everyone with. If you choose the wrong contractor, you can easily end up with lost time and wasted money. And that's something we don't want should happen to you.
We have delivered countless successful projects that make us a trustworthy service. Our mark of success is clear by the number of projects that we get from referrals. In fact, word of mouth is one of our biggest assets. Even then, it can be difficult to choose a service.
Well, we are here to make the decisions easy for you. Here are some of the reasons why you should choose our services:
We know how to make the place beautiful
When you hire us, we don't just deliver the water feature. We come and assess your place and then propose the best options to you.
That's our expertise. Our clients are often left impressed and speechless by the ideas that we propose. But that's just routine work for us. We'll come in and help you choose the best place for your water feature so that the place looks absolutely beautiful and celestial.
We respect the time
Building water features can take time. But our efforts are always made to deliver the results in the shortest time and in the most efficient manner.
You'll not see any unnecessary delays from our side. That's just not our game. In fact, our efficient services are one other reason why we get so many referrals. When you book the services, we give you time estimates. You can be almost sure that the work will get done under the proposed deadline.
We have the right technologies
Our investment is always made to gather smart tools and technologies that help us deliver finesse. Shabby and unprofessional work is just not our thing. We have the right tools that can make any place beautiful with the right water feature.
With our technologies, you'll get results right to the dot. Sounds good? Well, get one now.
Our staff is our strength
More than everything else, we have the right staff to support us.
We are some of the friendliest people that you'll work with. Our staff members are highly professional and know what it takes to make the clients happy.
With the most respectful, professional, and well-behaved staff members, we are proud and ready to take on any of your water feature projects.
Our rates are some of the best that you'll get.
We believe in delivering top-quality services without charging anyone unfairly. Call us right away to get a quote from us. We are sure that you'll like the money that we quote to you. And this offer isn't just for the water feature services. We offer reasonable rates for other services as well, like gardening services,swimming pool building services, pergola, and gazebo construction services, etc.
How to get us to work for you?
Booking our services is a piece of cake. Simply give us a call, and we'll come to survey your place. Once that's done, we'll offer you the quote and tell you the next steps.
Only when you are satisfied with everything we proceed further.
Remember, the difference between us and any other service that's out there is that we care for you. We are ready to go the extra mile for our clients just so that they can be happy. Amazing, no? Book an appointment right away!
Fields marked with an * are required
Get inspired by our recent work